Hollywood, Florida, has become a hot spot coastal city for tourists and vacationers from around the world and within the country too! Although many people expect it to be all glam and glory, with movie stars and celebrities gracing the palm-lined streets just like in California, things are quite different in reality. Hollywood, Florida, has a lot more to offer than A-list celebrities and drama. There are gorgeous, sandy beaches and vibrant nightlife that will make you never want to leave!
This South Florida gem stretches over 27 miles off the Atlantic coast. It attracts people with its soft, soothing sand and a gentle breeze that leaves you feeling truly invigorated. Moreover, when you're done tanning yourself under the warm, comforting sun, you can get dressed to enjoy a great day full of fun activities. From walking down the gorgeous brick-red boardwalk to shopping at unique little boutiques, you're going to have the time of your life here!
No matter what you're coming for, be it an exciting weekend away with the gals, a romantic vacation with your significant other, or even a family holiday, Hollywood Florida has something to offer everyone. So without further ado, let's get right into it. Here are the many attractions and things you can see when you visit Hollywood, Florida.
1. Hollywood Beach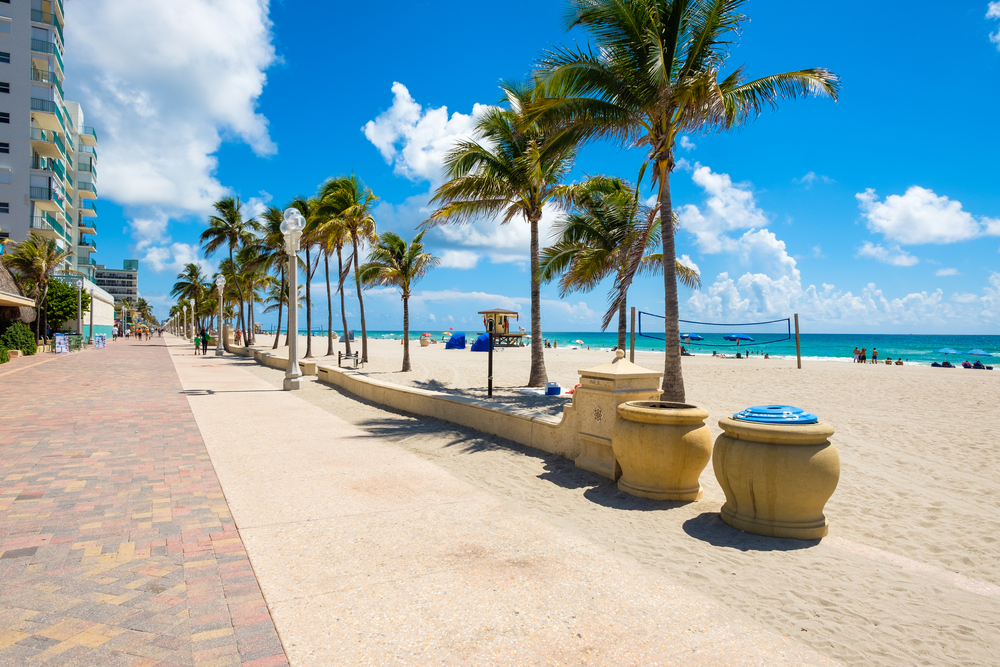 We obviously have to start with the beach; that is what Florida does best, after all!
The oasis of white sands and stunning turquoise-blue water will have you feeling more relaxed than you have in weeks. Add in the clear blue sky, and you have a dream destination to spend your yearly holidays! This area is also lined with restaurants serving delectable food and a range of quaint boutiques and shops to buy some memorable souvenirs for your family and friends back home.
2. ArtsPark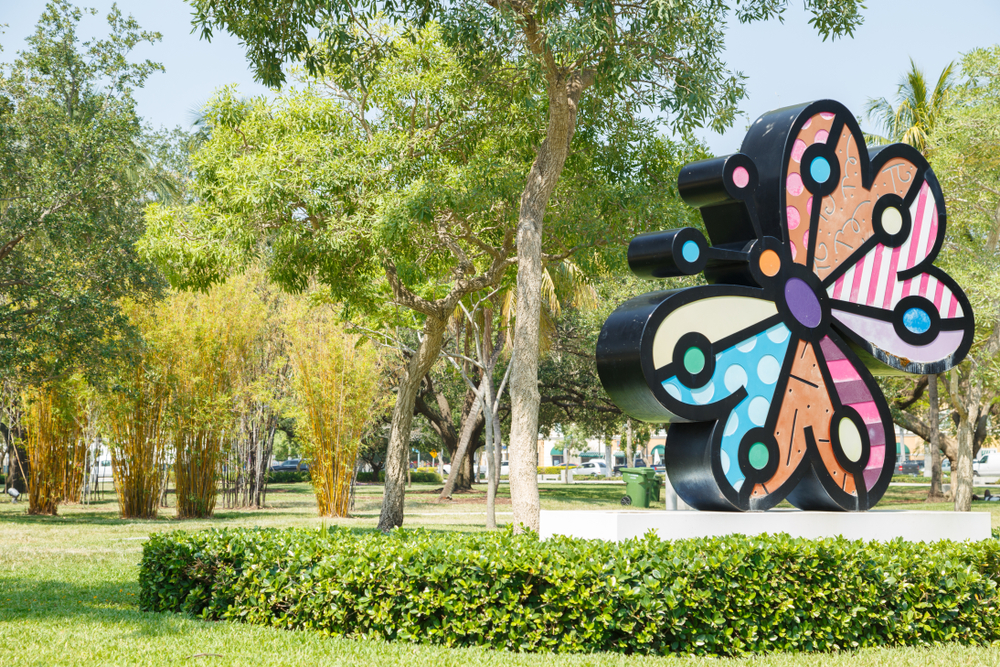 ArtsPark is the most happening place to be if you're visiting Hollywood, Florida. It hosts art shows, food festivals, and even open-air concerts that ensure you have an absolute blast on your visit here. This 10-acre circle offers all of its events for free, so if you're vacationing on a budget, this place is perfect for you!
Even without any events happening, this circle is constructed with various structures to keep the kids and adults entertained. It has an amphitheater that can hold over 2500 guests and walking paths to take a fun night stroll after dinner. The Splash Pad and Visual Arts Pavilion should be a part of your itinerary too!
3. Seminole Hard Rock Hotel, Hollywood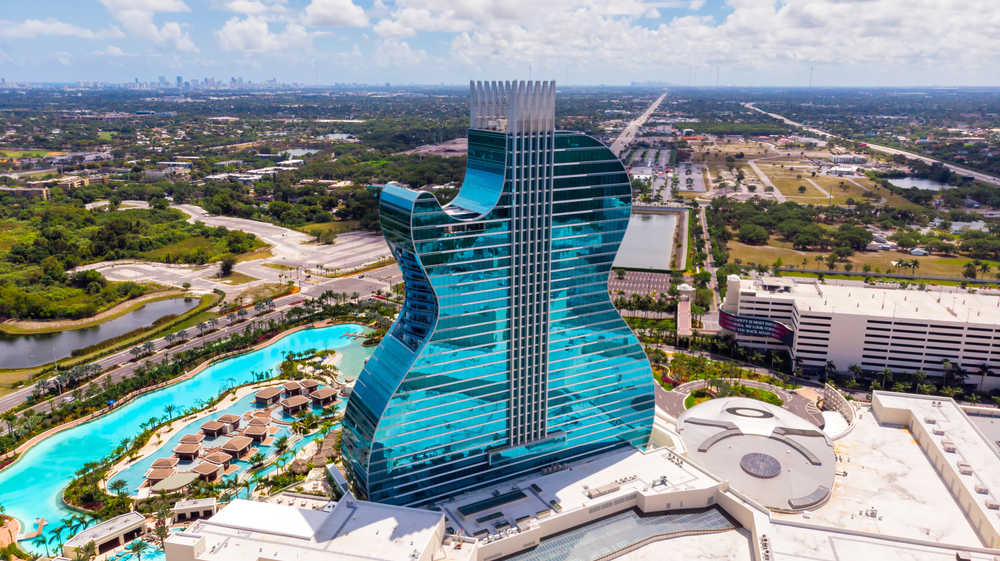 When you're visiting Hollywood, Florida, there is no better place to stay than the Seminole Hard Rock hotel. Once you've dropped your bags and settled into your room, you will never want to leave! This huge resort has everything you would need to have an absolute blast on your vacation!
With thousands of entertainment opportunities for people of all age groups, this hotel is a true wonderland. It offers a fabulously luxurious spa experience, multiple golf courses, and 26,000 square feet of boutique shops for you to shop your heart out!
The resort also has enough pools to host everyone wanting to make a splash. It has over 13.5 acres of the pool area, and guests can even choose a man-made beach area to relax in. The tropical lagoon-style pool has waterfalls and a vast water feature that makes room for canoeing.
Being the Hard Rock hotel. You will find music around the resort too. There are many different acts featured on a daily basis to keep the guests dancing and having a great time.
4. Topeekeegee Yugnee Park
Called the T.Y. Park by the locals, this urban park is sure to be a favorite among adults and kids alike. It has a variety of activities, including fishing and racquetball, but you can also have a nice, lazy picnic in the grassy areas if you're in the mood to just lay back and relax.
5. Yellow Green Farmers Market
Who doesn't farmer's markets? With so many colorful sights and delicious smells to take in, it is one of our favorite places to visit no matter where we are! The Yellow Green Farmers Market will have you marvel at the fantastic variety of delicious food and ingredients it has to offer. Being one of the largest markets of its kind in the Southern Florida region, this farmer's market is considered a weekend activity that you shouldn't miss out on! It extends over a 100,000-square-foot area and has more than 200 booths.
You will find tables and stalls full of freshly baked loaves of bread, bright flowers, and the tangy-sweet smell of fresh strawberries. From raw honey to kombucha and even homemade doggy treats, this farmers market truly has it al1 and so much more!
P.S. You can even attend a super refreshing yoga class every Saturday morning if you get there early enough!
6. Holland Park
Found in a little corner at the end of a residential neighborhood, the beautiful Holland Park is a must-see for anybody visiting Hollywood, Florida. It has a rather inconspicuous entrance which makes visitors think it wouldn't be much to see, but don't let this fool you. Holland Park expands along the length of the Intracoastal Waterway, and walking along the wood boardwalk will make you forget you're in the middle of a city!
It has cute little benches poised to offer you a perfect view of the waterways, and there are several boat launches placed around for you to go on a kayak or canoe trip! Be sure to look out for some iguanas, too; the park is teeming with these little creatures that make surprise appearances before running off to hide away again.
Final Words
Are you packing your bags yet? We sure feel like heading straight off to Hollywood, Florida, after finding out all that it has to offer. Just imagine being able to lie down under the golden, glistening sun and enjoy the cool breeze carrying the smells of the ocean with it. Sounds like an absolute dream come true, does it not? If you've visited this amazing destination, do share with us your favorite spots in the comments!